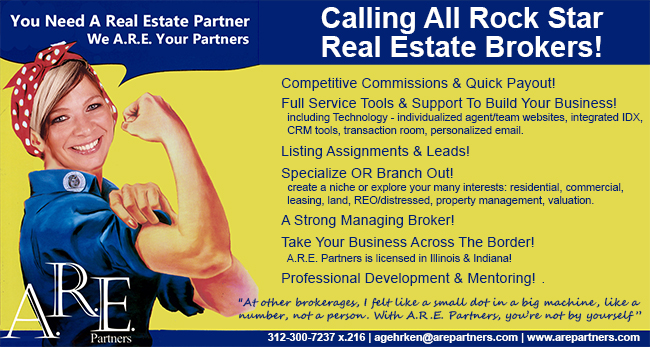 A.R.E. Partners, one of Illinois' and NW Indiana's hottest boutique brokerages, is searching for real estate brokers looking to take their career to the next level. Candidates should be fun, energetic, motivated with a great balance of work ethic and love for the business, whether it's residential, commercial, and/or leasing. It's a plus if you are looking to expand your visibility in the real estate community, because as our industry leaders have commented,
"A.R.E. Partners manages to impact and shapes the industry to a far greater extent than its size would suggest." We're on the same playing field as the big fish without our team members getting lost in the pool.
★ True Partnership from a Strong Managing Broker ★
"I love how authentic Antje is. I could see her dedication & knowledge
to real estate and wanted to build a partnership with a company that had extensive roots
in the Chicago Real Estate industry."
Rachel Ruffin, Real Estate Broker A.R.E. Partners
A.R.E.'s managing broker, Antje Gehrken, is also its founding president, Treasurer Elect of the Chicago Association of REALTORS® (CAR), recipient of the CAR President's Award and Women's Council of Realtors Entrepreneur of the Year award, 2-time Chair of the CAR Professional Development Advisory Group, Treasurer and Trustee of the Board for the CAR Education Foundation, a designated CCIM, mentor for the Goldie Initiative, a court-appointed Receiver, a Sterling R Major RPAC Investor, and an avid tennis player and overall dynamic personality.
"A.R.E. Partners is an exceptional brokerage with exceptional professionals.
A.R.E. Partners is the place to be!"
Kim Howard, Real Estate Broker A.R.E. Partners
Illinois Real Estate Broker since 1998
Antje and the A.R.E. team has brokered the sale of single family homes, multi-family properties, mixed use, commercial, industrial, vacant land and everything in between. Her expertise is as wide and diverse as her listings. She and her team provide invaluable support and partnership for A.R.E. brokers!
"I value the personal investment the leadership has in my success."
- Gershon Draiman, Sr. Real Estate Broker A.R.E. Partners
Chicago Association of Realtors 2017 & 2018 Top Producer
The A.R.E. family has an open spot with your name on it.
Let's get to know each other.
Call: 312-300-7237 x.216 or EMail Today!