I hope this email finds you well and enjoying the last officials days of Summer! With Chicagoland area temps in the 70s and 80s, I feel like I'm trying to squeeze out the last rays of summer sun before the colder temps start setting in. Don't get me wrong: I love the Fall colors but I'm just not ready for them, even though these months also bring some great things. Like what?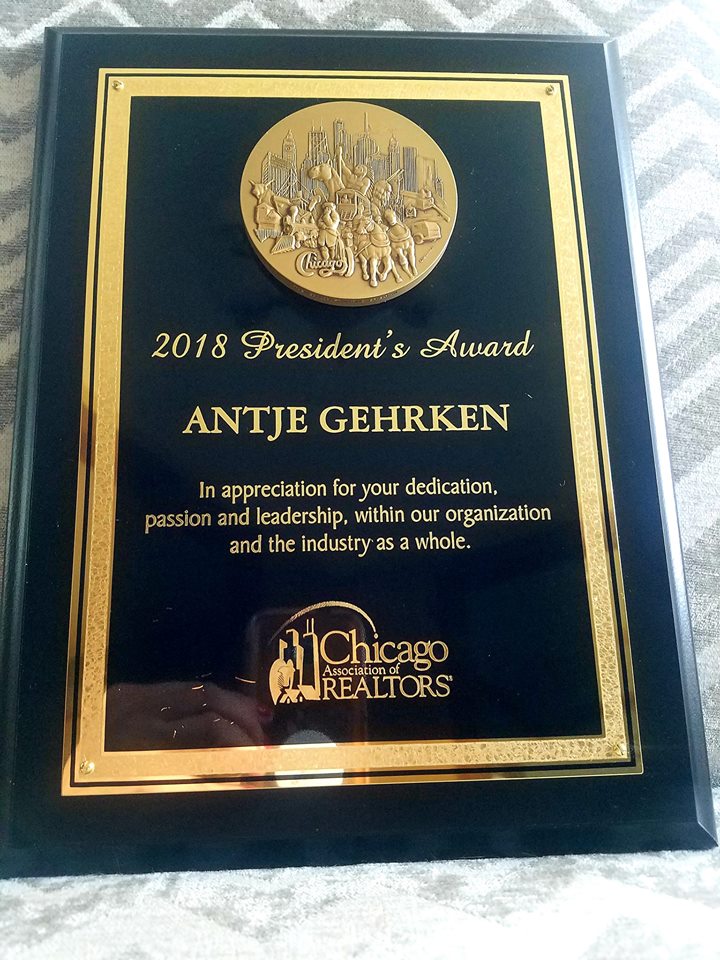 Well, Fall brings the new year for the Chicago Association of Realtors, to which I was installed to another year as a director of the board. This year, I was also greatly surprised and honored as the recipient of the 2018 President's Award. If you see any pictures of the night where I look like a deer in the headlights, yeah, that's me completely caught off guard!

Speaking of real estate, Fall is typically a great buyer's market where homes prices are more advantageous to those who held out for better deals; new seller's are preparing their homes for the upcoming Spring and Summer market; and investors are closing on properties that they are looking to rehab to either flip or hold. If I can be of assistance to you or someone you know with any of these real estate needs, please feel to reach for me. I'd be honored.
Would love to hear from you; drop me a line and let me know how you are!
Antje
Antje Gehrken, CCIM
President | Managing Broker
Newly Awarded! Chicago Association of Realtors President's Award
2015-20 Chicago Association of Realtors Board of Directors
2017-19 CAR Foundation Board of Trustees - 2019 Treasurer
2017-2019 CAR Finance Committee
2019 Illinois Realtors Commercial/Industrial/Investment Committee
2019 Illinois Realtors Public Policy and Government Affairs Group
2016-18 Chair - CAR Professional Development Advisory Group
2016-17 CAR Executive Committee
2015-16 Mentor – Goldie B. Wolfe Miller Women Leaders in Real Estate Initiative
2014 Entrepreneur of the Year – Women's Council of Realtors
A.R.E. Partners
Licensed Realtor® in Illinois & Indiana
www.arepartners.com
office: 312-300-7237 x.216
fax: 312-757-5599
email: agehrken@arepartners.com